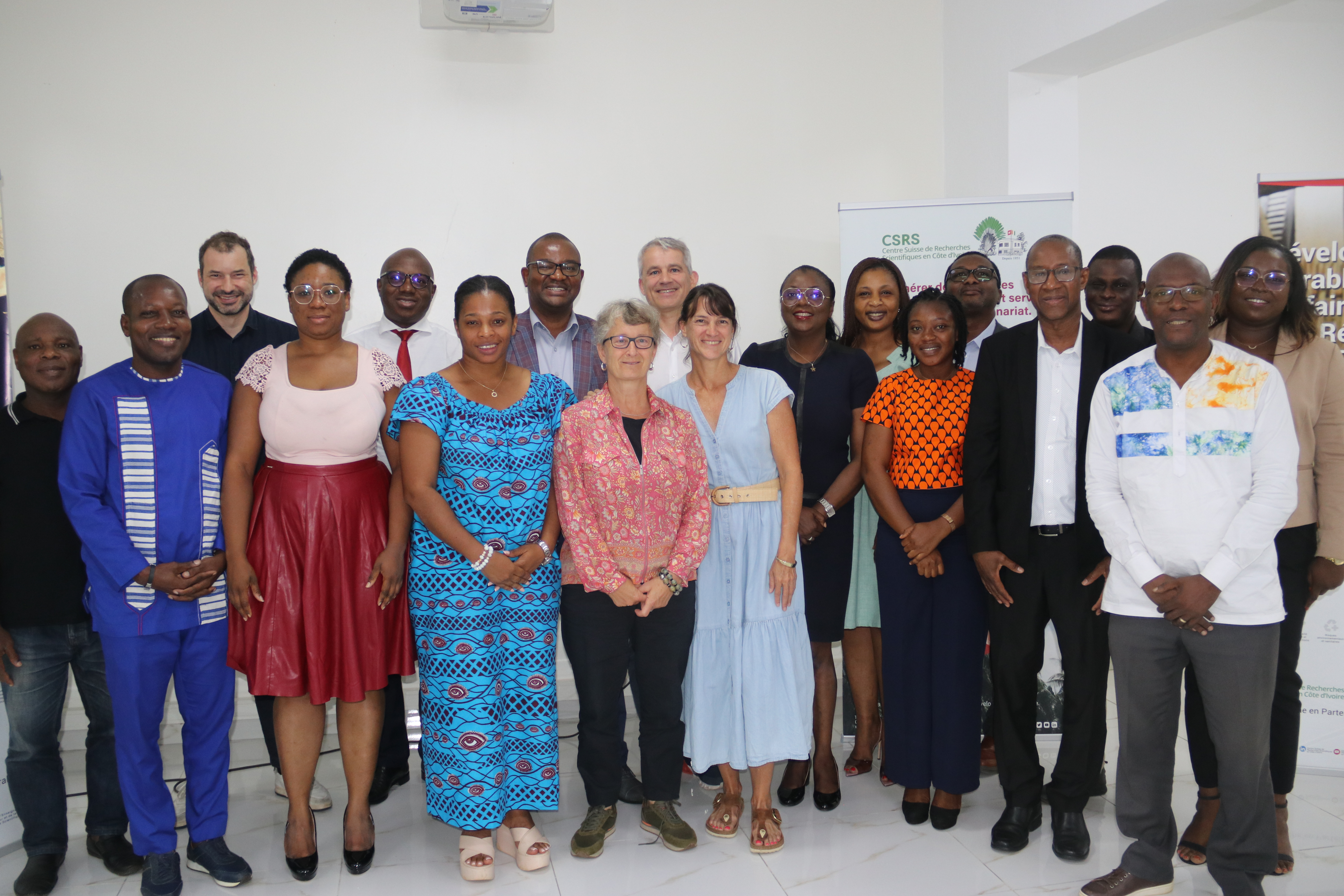 Family photo of the Swiss delegation and the CSRS team
On Monday 10 July 2023, a large delegation from the Canton of Basel, comprising Mr BEAT JANS, President of the Government of the Canton of Basel, and Mr Josias Planta, Head of the International Cooperation Department of the Canton of Basel, visited the Swiss Centre. Mr BEAT was accompanied by an eminent team from the Swiss Tropical and Public Health Institute (Swiss TPH). They were Professors Cissé Guéladio and Nicole Probst-Hensch, Head of the Epidemiology and Public Health Department and member of the Executive Board, and Dr Tracy Glass-Jans.
The working session was attended by the Director General of the CSRS, Prof Koné Inza, the Management Committee, Dr Daouda Dao, DGA and Director of Resources and Valorisation, Prof Koudou Benjamin, Director of Research and Development, Mrs Khady SALL, DAF, and the heads of departments, cells and units. The visit to the Centre Suisse is part of the follow-up to 2 major projects implemented as part of the twinning arrangement between Basel City and the commune of Yopougon. The Swiss Centre is the technical implementing partner, working closely with the Yopougon town council.
At the start of the working session, an institutional presentation of the Swiss Centre by the Director General, Prof Koné Inza, was followed by Professor Koudou Benjamin, who spoke to the delegation about the construction of the community health centre (construction plan, general medicine services, maternity, etc.) and the monitoring of the quality of the services to be provided there. Located in the Yopougon millionaire-extension district, this project aims to meet the cultural, social and health needs of the local population.
Following the discussions, our illustrious guests visited the laboratories of the Centre Suisse de Recherches Scientifiques in Côte d'Ivoire to get a better idea of the activities taking place there.
Monday was a prelude to Tuesday 11 July 2023, when the new and refurbished buildings (kitchen and canteen, teachers' buildings, classrooms) at EPP Adiopodoumé primary school were inaugurated, and the foundation stone for the construction of a health centre was laid, again as part of the partnership between Basel and Yopougon.
These first 2 large-scale projects, one of which has been completed, while the other is just starting its implementation phase, suggest that the prospects for this twinning between the two towns are very bright.
The Swiss Tropical and Public Health Institute TPH, the CSRS and the Swiss Embassy in Côte d'Ivoire are the facilitators of this twinning.
Located in Switzerland, the city of Basel is home to 200,000 inhabitants and a conurbation of 1 million people. It is a city with a rich past and a brilliant present, home to the oldest university in Switzerland and the headquarters of many renowned institutions and companies, including La Roche and Novartis.
A.K.A/Celcom